So last night I got home from my fantastic spring break adventure learning to surf in Costa Rica. What a trip! I need another week to relax before I go back to school, but alas, Chicago GSB only gives us one week. Oh well, at least I don't have class until Wednesday so I have a couple of days to sleep in my own bed, catch up on house chores, buy my books, get back to normal, etc.

I went on the trip with 5 other GSB chicks and we headed down to Dominical, Costa Rica, last Sunday.
Just getting there was quite the trek. We got a cab to O'Hare at 4 am, caught the 6 am flight to Houston and connected through to San Jose, arriving about 2 pm. It was nice because we didn't even change time zones. However, we were still a bumpy 5 hour drive from our final destination of the
Green Iguana Surf Camp
at
Diuwak Hotel
in
Dominical
. It was dark when we arrived so we didn't get to explore too much...we were just happy to be off the road, out of the van, and getting a meal in our bellies.
Day 1 was pretty mellow. Our first surf lesson wasn't until later in the afternoon, so we had time to walk through town, get some breakfast, and go check out a local waterfall before we tried to catch some waves.

The waterfall



The Chicago GSB Ladies Surf Team



At around 2 pm, we met our coaches and headed down to our local beach, Playa Dominical.
We first spent some time on the sand going over ocean basics and practicing our pop-ups, then it was time to hit the water and give it a go. I had taken a 2 day surf lesson at Surf Diva a couple years ago when I first moved to San Diego, so I remembered much of the basic info in my head, but my body had forgotten about it. We all took some tumbles, got a bunch of salt water up our noses (which would come out randomly later...hello, surf drip!) but by the end of day one, most of us had at least gotten our feet underneath us a few times and there were a few short but successful actual moments of surfing.

Day 2 was a late afternoon to sunset session at Playa Hermosa, a few miles to the south of Dominical. Gorgeous! The other chicks felt Hermosa got the best of them (bigger, more frequent waves combined with sore bodies), but I felt like I had a pretty good session getting to my feet more consistently and starting to find my balance. Plus, the setting was just too perfect. Beautiful beach, nobody but us on it, no man made structures in sight, surfing right up til sunset. I was pinching myself.

By Day 3, we had nicknamed all of our coaches and some of our fellow surfers...Mowgli, ZZ Top, Kid Rock, Shaggy, The Bod, Handlebars. We hit Playa Ventanas, a few more miles south of Hermosa and so named because of the caves that create windows/ventanas from the beach to the ocean. The waves were even bigger than the day before and I was starting to feel the fatigue, so the day was a bit of a struggle for me and I ended up a little sunburnt. I was glad to get off the beach and into the shade. The great thing about Ventanas is that the access is through private property. The property owners charge for access but that charge includes a refreshing pipa fria to end the day. (Pipa fria = chilled coconut with a straw....yum!)

Day 4 found us back at Ventanas. My usual board was claimed by someone else so I spent most of the time trying to get my bearings on a new board. Same length, but twice as heavy, so my balance was a little off and I felt like I had to paddle a lot more to get into a wave. However, once I got it figured out I got a little brave and went on an adventure to "the outside" (beyond where the waves were breaking). We had just been surfing on the whitewater, but real surfing happens from the outside. I was scared (just a little bit) and didn't actually take off on anything, but it was nice to float out there, see how waves develop, and practice paddling into waves from the outside a bit.

We went back to Playa Hermosa for our 5th and final day of surfing. It was by far my best day, even though my body had pretty much had enough. Because my body was saying uncle, I was climbing up more than popping up...also known as cheating and something you can only get away with in the whitewater, but that's neither here nor there... I was actually riding waves, feeling confident in my balance, going down the line, turning a bit, and generally having a blast! And everybody, ALL 6 OF US, had successfully caught a wave, popped up, and SURFED...what can I say but... GSB women kick ass!


In our rash guards & boardshorts, we look like pros already, don't we? I don't have any pics of us actually surfing yet, we are waiting to develop a waterproof disposable camera and the camp should be sending us the pics they took on our last day sometime soon. I promise to post them when I get them.


All in all, it was a great week. As they say in Costa Rica, "PURA VIDA!" Dominical is a funky little town. Our accommodations were what I would call rustic, but nice, and we did have air conditioning, a pool, great ceviche, and some interesting resident wildlife:

Q, our favorite monkey, right Megha?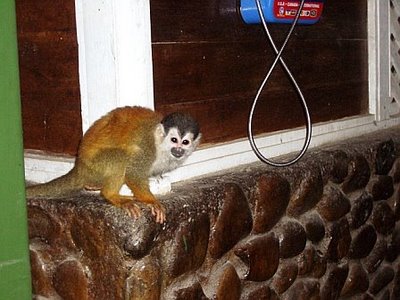 The iguana in Green Iguana Surf Camp